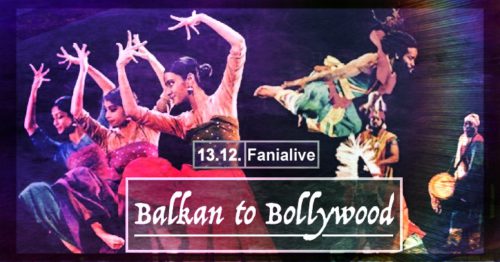 [dunkelbunt] presents: 
Balkan to Bollywood – "Vienna Tapes Release Party" 
Friday, Dec. 13, ,2019 @ Fanialive 
➸ Live Line Up:
– Mr Dunkelbunt (D / A): keys, electronics / DJ
– Haider Khan, Anuradha Genrich (IND): vocals
– Christiane Beinl (A): vocals
– Redouane Bariane (MAR): percussion
+ Special Guests
➸ DJs:
– Woxow (I)
– Mr Dunkelbunt
➸ Timetable:
– 8 pm: Doors Open & Welcome Drink
– 8 pm. DJ Session
– 10 pm: Live Session: Mr Dunkelbunt & Guests
– 23 pm – 3 am: DJ Session
– – The Legendary Transglobal Nightshift – –
Mr Dunkelbunt and his explosive musical sound factory of downright threatening danceability treat themselves to the 20th anniversary of a monthly takeover in FaniaLive:This regular club night is the place of continuous encounter and of the ongoing experiment with contemporary sounds like Bass Of Asia, Bollywood Trap and Oriental Bass, with live sessions and international guest DJs.
➸ Vienna Tapes
This time the release of the new [dunkelbunt]-Album "Vienna Tapes" will be celebrated: An exclusive audio cassette with selected tracks of the past four years including some promising previews of the "Asia Files" -Vinyl. A celebration, a party and a Sound System Live Session, which combines live act and turntablism.
➸ Vienna Tapes, Facts & Figures:
– Out on Dec. 13 2019!
– Limited Edition Audio Cassette
– Individually packed, signed & numbered
– Bonus: Plus extra [dunkelbunt] Spice Blend
– Exclusive Sale at the Event!
➸ Premiere Sale of the 7 Inch / Vinyl: Asia Files !!
➸ Next Date: January 11 2020: Balkan to Bollywood – "Mr Dunkelbunt's 40th Birthday! "Edition @ Fanialive
➸ Tickets: 
Early Bird / Pre-Sale: € 10.-
Factbox 
Balkan to Bollywood – "Vienna Tapes Release Party" 
Friday, December 13, .2019
Fanialive
U-Bahn Bogen Gürtellinie 22-23, 1080 Vienna
Doors / Beginn: 9 pm
Admission: € 10.- 
Pre-Sale / Early-Bird: € 10.-
➸
Pre-Sale-Link
➸ Facebook Event
New Release:
Vienna Tapes