★ Booking: booking(at)dunkelbunt.org ★
About:
Explosive sets, electronic-instrumental crossover, funky and eclectic sounds: The worldly cosmopolitan living in Vienna, Ulf Lindemann aka [dunkelbunt] who as DJ, soloist, producer and bandleader has set out a genuinely transglobal musical agenda and for over 15 years has been one of Europe's most innovative leaders of the electronic and world music scenes.
Whatever the pulse of the current club music scene that inspires the DJ, the composer transforms it with his international band into contemporary musical statements about how WORLD | MUSIC sounds today: 15 languages on stage, transglobal sounds from oriental to western merge with electronic beats to form an intelligent and energetic mix and guarantee a passionate live experience.
[dunkelbunt] + band is a cosmos, a forcefield of constellations.
[dunkelbunt] + band is this: energy and motion.
Format:
Intimate Concert , Club Show, Festival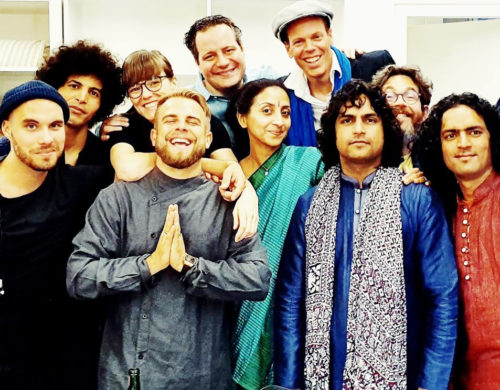 Line-up (May, 2019) fLTR:
Florian Tavernier
Salaheddine Najah
Christiane Beinl
Alix Oder Nix (Alexander Leuschner)
Alexander Wladigeroff

Anuradha Genrich
Ulf Lindemann
Haider Khan
Aliosha Biz
Pintoo Khan

Extract from tour schedule / cities:
Sydney ★ Melbourne ★ Toronto ★ Montreal ★ New York ★ San Francisco ★ L.A. Washington ★ Honolulu ★ Chicago ★ Portland ★ Vancouver ★ Berlin ★ Hamburg  Cologne ★ Munich ★ Bonn ★ Frankfurt ★ Warsaw ★ Prague ★ Bratislava ★ Sofia Rome ★ Bucharest ★ Budapest ★ Belgrade ★ Ljubljana ★ Novi Sad ★ Moscow ★ St. Petersburg ★ Zürich ★ Genf ★ Copenhagen ★ Oslo ★ Stockholm ★ Vienna ★ Salzburg Tel Aviv ★ Luxembourg ★ Paris ★ Barcelona ★ Madrid ★ Athens ★Nairobi  ★ London Dublin ★ Glasgow ★ Triest ★ Bolzano ★ Neapel ★ Rome ★ Istanbul ★ Vilnius  Capetown ★ Johannesburg ★ Malmoe ★ Cracow
…and many more…
Extract from tour schedule / festivals:
Exit Festival (Serbia) ★ Envision Festival (Costa Rica) ★ Symbiosis Festival (USA) ★ Roskilde Festival (Denmark) ★ Ecstatic Dance (Hawaii) ★ Harvest Festival (Canada) ★ Rainbow Serpent Festival (Australia)  Fusion (Germany) ★ Balkanology (South Africa) ★ Etnosur Festival (Spain) ★  Ariano Folk Festival (Italy) ★ Chigago Worldmusic Festival (USA) ★ Boomtown Fair (UK)  Earthdance (USA) ★ Ethnic Festival Kamwa (Russia) ★ Donausinselfestival (Austria) ★ NYC Gypsy Festival (USA) ★ MS Dockville Festival (Germany) ★ Zorba Festival (Israel) ★ Istanbul Twilight (Turkey) ★ Goulash Disko (Croatia) ★ Beglika Fest (Bulgaria) ★ Small World Music Festival (Australia) ★ Íboga Festival (Spain)
…and many more…