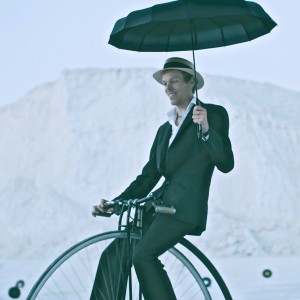 Ulf Lindemann aka [dunkelbunt] was born in Hamburg in 1979. At the beginning of the millennium in his Vienna studio, he began to merge electronic music with Balkan, Gypsy and Swing sounds and helped popularize the new music genres, "Electro Swing" and "Balkan Beats".
Since ten years, his tour schedule looks like a destination screen at an airport: Tel Aviv, Melbourne, Honolulu, Los Angeles, Paris, New York, Cape Town, Moscow, Vancouver, San Francisco, Istanbul or Barcelona are just some of the cities where he performs as a DJ.
Since 2011, he also tours the globe with his live project "[dunkelbunt] LIVE", presenting electronic beats from all imaginable genres, fluttering trumpets, Rag Time stride piano, oriental tango, electro swing 'n' speak easy flavours, Balkan beatz, urban klezmer, shimmering sitars together with a bouncy bass, heavy funk runs, beat boxing and a babylonian babble from around the world.
On his albums he captures the hum of the Global Village in our Cyber Age cooperating with over 150 musicians and incorporating 14 languages. Urban beats, grooving basslines, electronic and organic instrumentation and rhythms from the whole world. Mosaics of sound, soundbites and field recordings from his travels invite the listener to dance or to dream.
Together with every EP or LP released, [dunkelbunt] creates a special spice blend which is included with the CD or album and at concerts the air is filled with his special fragrances. With a cinnamon wand or with aromatic oil massaging the senses of his audience they are taken on a fantastic trip.
Alongside his diverse musical jobs (producer, pianist, DJ, composer, bandleader and radio producer) his other passion is cooking and spices. Over many years of travelling the globe he has built an impressive knowledge of spices with which he has begun to create his own blends and recipes. He distributes his delicate spice blends over the web and through many small local stores and restaurants around the world.
"The world offers a breathtaking plurality of music", he says. "It wouldn´t cross my mind to settle for only one style."
"When performing, I am travelling around the world together with my audience. Timelessly we are dancing through Countries and Continents, getting drunk with the infinite beauty of the music."
Links:
Music and discography
Tourdates
[dunkelbunt] live
[dunkelbunt] DJ Set
Press