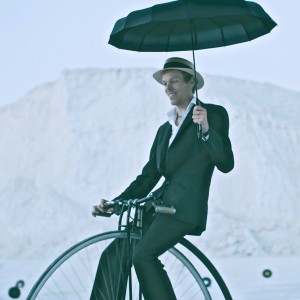 About [dunkelbunt]:
[dunkelbunt] aka Ulf Lindemann is a producer, DJ and bandleader. Born 1979 in Hamburg, living in Vienna since 2001. Degree in Piano and Keyboard Instruments at the University of Music and Performing Arts, Vienna.
History:
[dunkelbunt] has been a pioneer of the "Balkan Beat" and "Electro Swing" genres since 2001 . His international breakthrough came with the Balkan-Hip-Hop single "The Chocolate Butterfly" ft. Raf Camora (2003) and the Electro Swing follow up hit "Cinnamon Girl" (2007). The album "Mountain Jumper" (2015) was awarded the ORF "Album of the Year 2015". [dunkelbunt] + Band is a internationally booked live act in the genres of "World", "Global", "Club", "Balkan Beats", "Electro Swing".
Current Project:
EXODUS COMPLEX is a series of 3 EP's that focusses on the development of [dunkelbunt]s transglobal electronic sound, while collaborating with the pool of the international musicians living in Vienna and enriching the palettes of language and soundscapes through the topics of "China", "India", "Maghreb" and "Urban Africa". EXODUS COMPLEX is classic [dunkelbunt]: Eclectic, musically rich and very danceable.
Collaborations:
Raf Camora, Anuradha Genrich, Kadero Rai, Lisa Cantabile, Fanfare Ciocarlia, Boban Markovic Orkestar, Amsterdam Klezmer Band, Waldeck, Harri Stojka, Otto Lechner, Balkan Beat Box, 17 Hippies, 5'Nizza, The Cat Empire, A-WA, Chancha Via Circuito and Sara Lugo.
Platforms | Links:
ⓘ
[dunkelbunt] live
[dunkelbunt] DJ Set
Press
Discography
Tourdates
♬
Spotify
Bandcamp (listen/buy)
Soundcloud
Youtube
Mixcloud
beatport