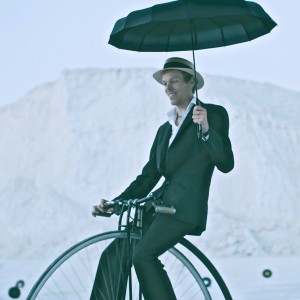 About [dunkelbunt]:
Ulf [dunkelbunt] Lindemann is a producer, DJ, soloist and band leader.
Born in Hamburg in 1979, he has lived in Vienna since 2001
Studied piano & keyboard instruments at the University of Music and Performing Arts in Vienna
Eleven albums, over 1.500 live performances worldwide, over 100 million audio streams
History:
Making his debut international breakthrough with the Balkan hip hop production The Chocolate Butterfly ft. RAF Camora (2006) this was followed by Cinnamon Girl (2007) an electro-swing classic; Mountain Jumper became ORF album of the year in 2015. [dunkelbunt] is a globally booked live and DJ act, employing the genres of World Music, Transglobal Bass, Asian Breaks, Balkan Beats, Electro Swing.
Current projects:
In December 2019, The Vienna Tapes was released as an audio cassette and digitally: This long-play release contains the most important tracks from 2015 to 2019 and draws substantially from the pool of international musicians in Vienna.
The 7" vinyl Hiroshima mon amour will be released in spring 2020 as the first release of the Asia Files
In 2020 Ulf Lindemann created the transglobal district under whose rubric he put on several event series in Vienna: Habibi Beatz & Bass of Asia (monthly), Balkan Gypsy Swing Party (monthly), living room concerts in the Dunkelbunt-Studio with selected guest musicians (monthly), Secret Swing Society (quarterly).
For 2021 he intends to embark on a unique trip: Ulf Lindemann will take a bike tour – which he is calling Abendlandfahrt along the Danube – from Vienna to Donaueschingen – in order to present an album of the same name.
Collaborations:
A-WA, Chancha Via Circuito, Waldeck, RAF Camora, The Cat Empire, Amsterdam Klezmer Band, Balkan Beat Box, Aliosha Biz, Fanfare Ciocarlia, Haider Khan, Otto Lechner, Boban Markovic Orkestar, Balkan Bump, Mela Marie Spaemann, Harri Stojka, 5'Nizza, 17 Hippies, Alexander Wladigeroff, and much more.
Platforms | Links:
ⓘ
[dunkelbunt] live
[dunkelbunt] DJ Set
Press
Discography
Tourdates
♬
Spotify
Bandcamp (listen/buy)
Soundcloud
Youtube
Mixcloud
beatport