The Sound Universe (Digital + Vinyl LP)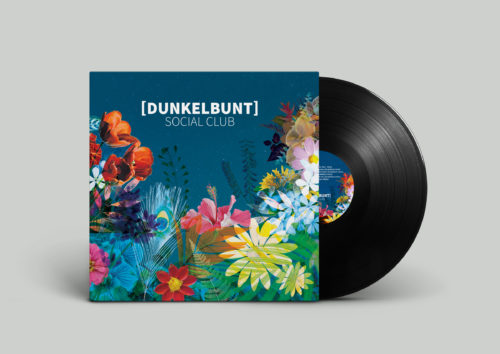 Bandcamp (Vinyl + Wav): https://bit.ly/3x5J4O7
All other Platforms: https://bfan.link/dunkelbunt-social-club
This compilation is a dancefloor-fit community horizon of the Dunkelbunt Social Club, as it sweeps through 2 floors of Vienna's underground cult club "fluc" in June, September and December: This is a monster compilation in a class of its own, a new sampler format for a new event format!
The Dunkelbunt Social Club community is a loose scene of international musicians, DJs, club pros, soundscapers, radio makers, label gurus. They all have one thing in common: They live in the permanent adrenaline of club culture, and they mix the ethnic music of their forefathers with all kinds of crazy current vibes. These Stage Compañeros meet during the Dunkelbunt Social Clubnights and bring their beats together for this sampler, which is everything at once: world trip and friendship document, peace demo, groove selection and dream space.
– Melt down, melt in – come in and rave! –
Dunkelbunt Social Club Compilation Liner Notes
32 tracks: Upbeat and Downtempo, Songs & Instrumentals, groovy novelties from all corners of the world. This compilation shows that you can rethink music production and publishing in a entirely new way: Melodies, Moods, Traditionals, the Handed Down, the Found, the Composed, the Sung and the Played is more than a fast-moving commodity and consumer good, as the streaming platforms suggest to us. Music is a cosmos in which nothing sinks. Much of what is featured here – tribal tunes, Balkan beatz, hip-hop or ElectroSwing – has existed in other places and times. Here, however, it's presented as acute remixes alongside dewy stuff in an immersive sound and dream space.
This is round 1 (GONG: tracks 1–8, subtitle "FRESH") with the latest outrages of Dunkelbunt & Allies: The opener is a crispy remix of the world famous Roma brass combo Fanfare Ciocarlia ("First Aid Klezmer"). Next is the even more recent Dunkebunt inhouse production with Arab lyrix performned by Casablanca-based singer Katwar Tazi ("Yallah"). Stylish Bass & Cello then with Maria Spaemann & Christian Bakanic in a Dunkelbunt remix and right after that the proof that D'n'B can come along floatingly light (Dream Noir: "Puzzle", Dunkelbunt remix). With the singer Lisa Cantabile ("Viens avec moi") a returning ally of Dunkelbunt enters the scene, and of course there is the hymn "I'm A Tribe" (A-WA) as well as the delicious rediscovery "Yali Yali" by Neşe Karaböcek, also in a Dunkelbunt redub.
Round 2 (GONG: tracks 9 & 10, "LATIN") provides a melodic interlude: There is the charmingly cheerful "Papacito" by Dj Farrapo & Carlo Maver, and we are lavishly presented with a classy piece by Swedish sound zampano Johan Zachrisson aka Zilversurf ("Cumbia Del Sol").
Round 3 (GONG: tracks 11–15, "UNDER THE RED CRESCENT") takes you to the heartlands of the Dunkelbunt Family: Inteligent musical pranks by Shazalakazoo ft Killo Killo ("Baklava Lover"), bombastic dynamics by BalkanBeats Soundsystem ("Berlin to Ramallah", "Arab Ya Habib"), and a witty Disco-Arab fusion by Berlin-based radio-pro and DJ Eastenders.
Round 4 (GONG: tracks 16–18, "DOWNBEAT GEMS") goes to the bustling internationalists Zilversurf and the fortunately Vienna-based vinyl label guru Woxow, the latter with playful hip-hop reminiscences of the '90s.
All the faster they are on their way in round 5 (GONG: tracks 19–26, "SWINGY, JAZZY") and we get to deal with the Giants of Electroswing: Deladap, DJ Farrapo and – noblesse oblige! – Waldeck. 7Samurai skillfully shows us how Bossa is the real thing of swing ("Bluesanova feat. Stefania").
Round 6 (GONG: tracks 27–32, "WORLD SOUL") is nothing less than the musical soul of Dunkelbunt Social Club and its intention: space- and time-spanning musical poetry between East and West, North and South. There are the lightheartedly-bouncy West African ambiances of Zilversuf, there are the intimate Folk Brothers from Rajasthan with hilarious multi-percussionist Haider Khan (a strong pilar of the Dunkelbunt Live band), and there are further Indian echoes
on Shanti Roots & Scheibosan's "Yoni", which offers an enchanting reencounter with the spacey-trippy-groovy sound of the K&D-inspired Vienna School of Electronics. The compilation ends with the perennial discreet favorite to be heard with Mr. Dunkelbunt's poetic electronic fantasy on "Hiroshima mon Amour".
– Open your ears, open your heart, join the Dunkelbunt Social Club! –
Dunkelbunt Social Club – The Sound Universe (DE)
Mit der voliegenden Compilation legt Dunkelbunt eine Tour d'Horizon jenes Dunkelbunt Social Club vor, der im Juni, September und Dezember über zwei Floors des kultigen Wiener Underground-Clubs "fluc" fegt. Und nein, es ging nicht kürzer: Denn ein neues, umfassendes Clubbing-Format sucht und findet ein neues, umfassendes Release-Format!
Die Dunkelbunt Social Club-Community ist eine verstreute, aber treue Szene von internationalen MusikerInnen, DJs, Club-Hosts, Klangbastlern, Radiomachern und Label-Gurus. Sie leben sämtlich im unendlichen Adrenalirausch der Clubkultur und rühren aus den eigenen wie vorgefunden musikalischen Ingredienzien die explosivsten Mischungen. Die Bühnencompañeros vieler jahre finden in den Dunkelbunt Social Clubnächten zusammen, und sie präsentieren ihre Beatz nun auch auf diesem Sampler, einem Sounduniversum sondergleichen, das alles zugleich ist: Weltreise und Freundschaftsbeleg, Friedensdemo, Groove Selection und Traumraum.
– Melt down, melt in – come in and rave! –
Was gibt's zu hören?
32 Tracks: Upbeat and Downtempo, Songs & Instrumentals, groovige Neuheiten aus allen Ecken und Enden der Welt. Diese Compilation zeigt, dass man Musikproduktion und -Veröffentlichung ganz neu denken kann: Melodien, Moods, Traditionals, Überliefertes, Gefundenes, Komponiertes, Gesungenes und Gespieltes ist mehr als ein schnelllebigen Ge- und Verbrauchsgut, wie es uns die Streaming-Plattformen suggerien. Musik ist ein Kosmos, in welchem nichts untergeht. Vieles, was hier zu hören ist – Tribal Tunes, Balkan Beatz, HipHop oder ElectroSwing – hat es an anderen Orten und in anderen Zeiten schon einmal gegeben. Hier aber wird es als akute Remixes neben taufrischer Ware in einem immersiven Klang- und Traumraum präsentiert.
Runde 1 (GONG: Track 1–8, Kategorie "FRESH") stellt die jüngsten Streiche von Dunkelbunt & Konsorten vor: Den Opener macht das gewitzte Remix eines Songs der weltberühmten Roma-Brass-Band Fanfare Ciocarlia ("First Aid Klezmer"); es folgt die sogar noch rezentere Dunkelbunt-Eigenproduktion "Yallah" mit der marokkanischen Sängerin Katwar Tazi. Stimmungsvoll setzen in zwei Remixes erst Maria Spaemann & Christian Bakanic ihre akustischen Instumente – Bass und Cello – an, dann erweist das Wiener Duo Dream Noir ("Puzzle"), dass D'n'B nachgerade zärtlich sein kann. Mit der Sängerin Lisa Cantabile tritt eine langjährige Dunkelbunt-Mitstreierin auf den Plan ("Viens avec moi"), er folgen die A-WA-Hymne "I'm A Tribe" sowie die verblüffende Wiederentdeckung und Neuadaptierung eines Songs der türkischen Seventies-Diva Neşe Karaböcek ("Yali Yali").
Runde 2 (GONG: Track 9 & 10, "LATIN") punktet als melodisches Interludium: Da tänzelt das kindlich-heitere "Papacito" von Dj Farrapo & Carlo Maver, dort gibt es Ethno-Mimikry der Sonderklasse seitens des schwedischen Score-Sorcerers Johan Zachrisson aka Zilversurf ("Cumbia Del Sol").
Runde 3 (GONG: Track 11–15, "UNDER THE RED CRESCENT") entführt in die Herzlande des Dunkelbunt-Tribe: Da ist die gewitzte textllich-musikalische Narretei von Shazalakazoo ft Killo Killo ("Baklava Lover"), da sind die umwerfend bombastischen Dynamiken von BalkanBeats Soundsystem ("Berlin to Ramallah", "Arab Ya Habib") und schließlich serviert der Berliner Radiomann und DJ Eastender eine konzeptuell und rhythmisch hintergründig angelegte Arab-Disco-Provokation ("On the ride").
Runde 4 (GONG: Track 16–18, "DOWNBEAT GEMS") wird von den hyperaktiven Internationalisten klar entschieden: Erneut zeigt Großmeister Zilversurf, was er kann ("Let it flow") und der in Wien als DJ und umtriebiger Vinyl-Labelguru ansässige Woxow erinnert an die relaxte Hip Hop-Kultur der Nineties ("Up", "Mo' Gems").
Um so flotter ist man in Runde 5 unterwegs (GONG: Track 19–26, "SWINGY, JAZZY"). Es brausen und steppen und hoppen die Electoswing-Giganten heran: Deladap, DJ Farrapo und – Noblesse oblige! – natürlich Waldeck. Nicht zuletzt tritt 7Samurai den Beweis an, dass der Bossa das Real Thing des Swing ist ("Bluesanova feat. Stefania").
Die finale Runde 6 (GONG: Track 27–32, "WORLD SOUL") lotst uns zu den Kernlanden und Herzzonen des Dunkelbunt Social Club: Raum- und zeitübergreifende Poesie aus Ost und West, Nord und Süd. Von Zilversurfs federnd-leichten westafrikanischen Ambiancen zu den sympathischen Folk Brothers aus Rajasthan – der Multi-Percussionist Haider Khan ist tragende Säule der aktuellen Dunkelbunt Live-Band. Indische Echos klingen auch in Zilversurfs "Aum Namah Shivaya" herein sowie im Track der Wiener Szene-Urgesteine Shanti Roots & Scheibosan ("Yoni"), wo wir aufs Wohligste von den Wellen des delirant trippig-spacigen Spirits der K&D-Ära getragen werden. Ach ja, und da hätten wir fast Mr. Dunkelbunts poetische elektronische Fantasie über "Hiroshima mon Amour", einen diskreten Longseller, vergessen!
– Open your ears, open your heart, and join the Dunkelbunt Social Club! –
Tracklist
Fanfare Ciocarlia – First Aid klezmer [dunkelbunt remix]
[dunkelbunt], Merdan Taplak, Kawtar Tazi – Yallah (Freedom for Sallahedine)
Marie Spaemann, Christian Bakanic – Ideocello [dunkelbunt remix]
Dream Noir – Puzzle [dunkelbunt remix]
[dunkelbunt], A-WA, – I'm A Tribe
Nese Karaböcek – Yali Yali / Caylinden Ötyie [dunkelbunt Remix] 04:05
[dunkelbunt], Lisa Cantabile, Kadero Rai – Viens avec moi (Caramelle Remix)
[dunkelbunt],Lisa Cantabile, Marie Spaemann, Christian Bakanic – Lemon Cello
Zilverzurf – Cumbia Del Sol
Dj Farrapo, Carlo Maver – Papacito
Shazalakazoo ft Killo Killo – Baklava Lover
BalkanBeats Soundsystem – Berlin to Ramallah
BalkanBeats Soundsystem – Arab Ya Habib
Eastenders On the ride – On the ride
Eastenders – Sex And Cookies
Woxow feat. Blacc El – Up
Zilverzurf – Let it flow
Woxow feat. Blacc El – Mo' Gems
Deladap – Get Down and Boogie
Deladap – Crazy Swing ReJazzed
DJ Farrapo ft. Cico – Good Life To You
Whiskydenker – Chihuahua Taxi
Waldeck feat Patrizia Ferrara – Look at me Joe
DJ Farrapo feat. Cristina Renzetti – Marcianito
7Samurai – Bluesanova feat. Stefania
7Samurai – Jah Music feat. Blue Eyez
Woxow – Batubagen (feat. Cyril Benhamou)
Zilverzurf – If six could be eight
The Folk Brothers, Haider- , Iqbal & Pintoo Khan Gorau, Jovan Torbica, Nikola Zarić – Moryia
Shanti Roots, Scheibosan – Yoni
31.[ dunkelbunt] – Hiroshima mon amour
Zilverzurf – Aum Namah Shivaya
Related show