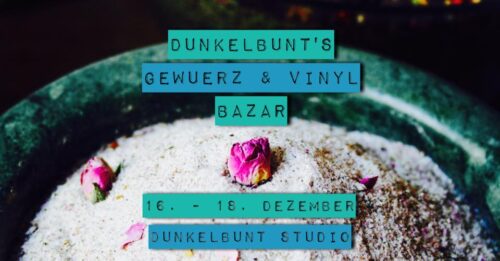 Traditionally, on the shortest days of the year, I open the doors of my Viennese studio/atelier and present my spice mixtures a.k.a. Chords in the mouth in handily packed baggies to take away.
Curries, masalas, teas & herbal salts (from my garden in the Schneebergland), pepper mixtures, Christmas cocoa, harissa, Kashmiri Krush and of course homemade music on record, cassette or CD, the new album Dunkelbunt Social Club, the Eight Treasures Vinyl Box (see below) and a selection of my favorite records from all over the world.
The perfect opportunity to equip yourself with meaningful Christmas gifts away from commerce, to approve a winter warmer (tea or liqueur), to chat a bit, to listen to live music (music program see below) or just to let your soul dangle…
Live Music & Opening hours
Fri 16.12. 3 p.m. – 9 p.m
(19:30 Live Music) Dunkelbunt Trio
Lisa Cantabile (vocals) / Julian Steirer (drums) / Ulf Lindemann (Piano)
Sat 17.12. 3pm – 7pm
(16:00 Live Music) Dunkelbunt Solo Piano
Ulf Lindemann (Piano, Electronics)
Sun 18.12. 11am – 5pm
(16:00 Live Music) Dunkelbunt Indian Vibes
Anuradha Genrich (Vocals) / Haider Khan (Tabla/Vocals) / Ulf Lindemann (Piano)
You are also welcome to make an alternative appointments. Call or email. I am up to 23.12.
Darwingasse 3/3 – 1020 Vienna
+436509250869
ulf@dunkelbunt.org