On February 22nd I will do a DJ set with Vincent Bernat aka DJ Grounchoo (Balkan Party Barcelona) in Barcelona: Presale tickets are availabe!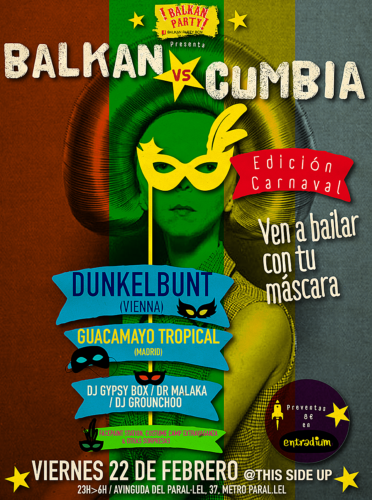 Balkan vs Cumbia Carnival Edition
February 22, 2019 @ This Side Up, Av. Parallel, 08004 Barcelona
#BalkanPartybcn brings you a night full of masks, dances, circus and a lot of music #balkanvsCumbia Carnival Edition.
Come dance with your mask!
Tickets are on sale!!! Hurry, the first 50 cost only € 6 http://bit.ly/Carnaval_BalkanVsCumbia
Line Up:
Costume Camp Extravangaza – Performances – Facepaint station -Circus + Awards for the best masks and other surprises
Doors: 23:00 until 6:00 AM
? Tickets are on sale !!! Hurry, the first 50 cost only € 6 http://bit.ly/Carnaval_BalkanVsCumbia
Host: Balkan Party Barcelona