-▬▬▬▬▬▬▬▬▬▬▬▬▬▬▬▬▬
★ New Spotify selection ★
▬▬▬▬▬▬▬▬▬▬▬▬▬▬▬▬▬
★ AFRICA – The Ultimate Playlist on Spotify by [dunkelbunt] ★
▬▬▬▬▬▬▬▬▬▬▬▬▬▬▬▬▬
Dive deep into the subsaharan africa! From Nuu Urban Africa to Desert Blues, electrified tribe vibe to good old analog gems.
▬▬▬▬▬▬▬▬▬▬▬▬▬▬▬▬▬
★ ★ [dunkelbunt allstars] LIVE ★ ★
▬▬▬▬▬▬▬▬▬▬▬▬▬▬▬▬▬

05.10.2017, 20:00 Uhr @ RadioKulturhaus
Großer Sendesaal, Argentinierstr. 30a, 1040 Wien
⇒ TICKETS
(Ermäßigungen: ORF RadioKulturhaus-Karte 50%, Ö1 Club 10%)

Tanzen im Sitzen?
Wir machen aus der Not eine Tugend und schunkeln euch direkt aus dem Sendesaal des RadioKulturhauses in die nächste musikalische Dimension!
Wir freuen uns besonders darauf alle Solisten mit dabei zu haben, die jemals bei uns an Bord waren, außerdem Pintoo & Haider Khan ft Iqbal. Wir wuchten mindestens fünfzehn Sprachen auf die Bühne, spielen die alten Hits, sowie ofenfrisches Ohrfutter UND es bleibt viel Platz für Improvisation und neuen Sound, den wir erst auf der Bühne entstehen lassen… Es könnte eines der interessantesten [dunkelbunt] Konzerte der Geschichte werden…
Theoretisch handelt es sich um eine bestuhlte Veranstaltung (ich liebe dieses Wort) und so spielen wir das erste Mal in unserer Bandgeschichte für ein sitzendes Publikum, denn so ist die Auflage im denkmalgeschützten Sendesaal des ORF. Also Leute, schön brav sein, lasst die harten SubsTanzen zuhause, nicht zuviel Extase sonst muss der ORF noch Vergnügungssteuer an die AKM abdrücken…
In diesem Sinne, ich wünsche
FIEL FERGNÜGEN mit
Christiane Beinl – Gesang
Cloud Tissa – Gesang
Queen Joy – Gesang
Florian Tavernier – Gitarre, Gesang, Beat Boxing
Alexander Alexandrov Wladigeroff – Trompete, Flügelhorn
Erhan Mamudoski – Saxophon
Hidan Mamudov – Klarinette
Aliosha Biz – Geige
Pintoo Khan – Khartal, Morchang, Bhapang
Haider Khan – Tabla, Gesang
Iqbal Khan – Dholak, Gesang
Gefion Gufler – Tanpura
Alexander Leuschner aka Alix – Gesang, MC
Ulf Lindemann – Piano, Synths, Bass, Percussion, Electronics
▬▬▬▬▬▬▬▬▬▬▬▬▬▬▬▬▬
★ ★ [dunkelbunt] – CINNAMON GIRL ★ ★
▬▬▬▬▬▬▬▬▬▬▬▬▬▬▬▬▬
▬▬▬▬▬▬▬▬▬▬▬▬▬▬▬▬▬
★ ★ [dunkelbunt] – SPACE WALKER – out now! ★ ★
▬▬▬▬▬▬▬▬▬▬▬▬▬▬▬▬▬
▬▬▬▬▬▬▬▬▬▬▬▬▬▬▬▬▬
★ ★ SARA LUGO – [dunkelbunt remix] ★ ★
▬▬▬▬▬▬▬▬▬▬▬▬▬▬▬▬▬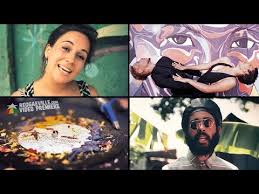 iTunes
Spotify
Junodownload
Soundcloud
Really Like You, the hit single from Sara Lugo's 2014 album Hit Me With Music, has over 6 million views on YouTube and is still a favourite among fans from San José to Lyon, and beyond.
▬▬▬▬▬▬▬▬▬▬▬▬▬▬▬▬▬
★ ★ [dunkelbunt] live – 11.03. Lido, Berlin ★ ★
▬▬▬▬▬▬▬▬▬▬▬▬▬▬▬▬▬

▬▬▬▬▬▬▬▬▬▬▬▬▬▬▬▬▬
★ ★ NEW SONG – "WISH" ★ ★
▬▬▬▬▬▬▬▬▬▬▬▬▬▬▬▬▬

For his new single WISH, [dunkelbunt] teams up with San Francisco based musicians Will Magid (trumpet) & Paul Bertin (saxophone), Viennese singer Mela and MC Alix from Berlin.
Together they have created a mystic sound collage, enriched with instruments from various countries. The Middle East meets the Californian Bass Coast.
Exclusive release on Spotify.
Turn up the volume and let the speakers rattle!